These are all early learning books, DVDs and computer programs that we have used or are using.
There is no way I can list all the story books we read.
Books:
Review:

Your Child Can Read Mini Sliding Books:
These books are really great although my child has
outgrown them, she loved them. They were fun and educational.
Very similar to the flashcards that come with the Your Baby Can Read set
although different words.
Review:

Your Child Can Learn:
This product is something that my daughter
loves to read through, but if I had to purchase
them again I would not. Since I have purchased
the Your Child Can Discover set and they have very similar
books included. The Discover books are better, I like the differences although
subtle.




Review:

Your Baby Can Read Books: These
Books are from the Your Baby Can Read set.
My daughter enjoyed these books very much.
Review:

Your Baby Can Read My First Words: Another
Book my daughter has outgrown but loved immensely.
I wish they had more books like this, my daughter loved it so much.
Words are from the Your Baby Can Read videos.




Review:

Baby Einstein Alpha-books:
These books I highly recommend. My daughter loved them at a very early age.
She played with them for a long time and learned all the words. She was able to read them on her own.
Enjoyed them and loved them!



Review:

Dr. Seuss's Beginner Book Collection: This is actually
from when I was a child. My daughter loves these books. We read them together. There are also a few that she can
actually read on her own now a days. I highly recommend these books.
Review:

A+ Lets Grow Smart: These are great workbooks although
we haven't used them yet. We get them for a dollar at Target! They also have flash cards and other tools.
We use the flash cards and they are fabulous also a dollar. They usually have these in summer, before school starts.
Back to School time is when they are usually there in the dollar section so keep an eye out. They have a nice variety of subjects. Social Studies, Science, Math, Pre School...etc.


Review:

Wipe Clean Early Learning Activity Book:
My daughter really enjoys this book she has another one also with more activities.
The dry erase marker can get quite messy though, its good to use Dry Erase Crayons.
Dry erase markers are insane to get off clothes.



Computer Programs:
Review:

Little Reader: Amazing program for early reading
If you don't get any other program or video this is the one to get
You can customize it, create your own things to teach your child.
Download other parents creations. You can teach another language along with reading.


Review:

Little Musician is another amazing program that teaches perfect pitch and encyclopedic knowledge along with rhythm.
Review:

Little Math: A very good program devoted to teaching numbers and math.
My daughter has enjoyed this and still enjoys it. Although there are times that she isn't interested in it.
I believe they are working to make it even better. But the best thing I have seen to teach little ones math and numbers.






Review:
Soft way to Mozart: Teaches Piano!
My daughter is working on this one. I like the program.
I do it myself with her since I do not have any musical knowledge. Overall it is really great you can find a detailed review in the blog,
DVDs:
Review:

Your Baby Can Read: This is what started it for us.
A really good video program, my daughter loved it.
Review:

Your Child Can Read: Even better then
Your Baby Can Read. Better quality and a lot of fun to watch.
My daughter still enjoys these.




Review:

Your Child Can Discover: This is one
I highly recommend. I covers so much. It teaches Music, Numbers, Math, Reading, Colors etc.
My daughter loves it and so do I.


Review:

Baby Signing Time: A great set of videos,
there are cartoon babies along with real babies and children and of course Rachel!
It teaches sign language which is great if needed (helps with speech delays, autism...etc) or as a second language.
Even really good for little one before they can speak. Learning Sign Language
has been linked to a greater IQ! Has more music then regular Signing Time.
It is a fun and good quality DVD I highly recommend.
Review:

Signing Time Series One and Two: My daughter absolutely loves these.
No cartoons here, but babies, children and of course Rachel and Alex and Leah in the flesh!
Same great advantages as Baby Signing Time. Less music but still a good amount that keeps it fun.
Each DVD features more words then Baby Signing Time, and it covers the same words that are in Baby Signing Time.
It is different then Baby Signing Time although each are great. You can't go wrong in your choice if you want to get some of the DVDs. There is a Review in my blog.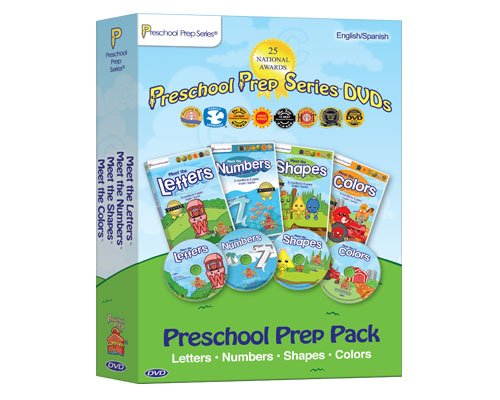 Review:

Preschool Prep Series: Meet the Letters, Meet the Numbers, Meet the Shapes,
Meet the Colors, Meet the Sight Words 1, 2, 3 : Okay so here is a not so good review.
We really wanted these DVDs but by time we received it, they weren't much good for my daughter.
She was way past it. She knew her letters, colors, shapes, and numbers. They do let you play it
in Spanish also which is nice. But I found the DVDs repetition to be annoying. I liked the end of the sight word DVDs where they would show and read simple sentences. It wasn't worth the cost to me. We should have just got the sight words, because she watches them more then letters numbers shapes and colors which she already knew when she finally received them. We do want the book sets, though.
Review:
Little Pim Spanish 6 pack: Awesome for learning a foreign language!
Not only do they have a wide variety of languages, they also show the written word,
along with hearing and seeing the action or object multiple times. Fun and Educational.
Review:

Little Pim Italian: Same as Spanish. We love it!



Review:
Hooked on Phonics: We only use the Pre K DVD and it is
great for teaching Phonics.
Review:

Trebellina: Teaches musical notes, rhythm and musical instruments.
It is a cute and fun DVD. I like Your Child Can Discover a little better, But before there was Your Child Can Discover
there was Trebellina and my daughter loved it, she would ask to watch Notes, and at times she still watches it.


Review: Readeez: Is a fun way that helps reinforce reading. There is a review in my blog.
It is a nice collection that incorporates other subjects but its fun, mostly musical and educational. There
motto is "Learning disguised as smiling". Wonderful!